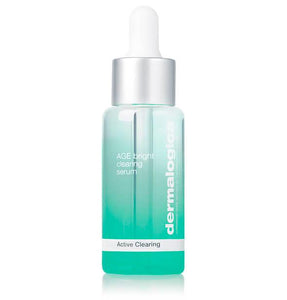 This active two-in-one serum clears and helps prevent breakouts while reducing visible skin ageing. Salicylic Acid reduces breakouts to clear skin. This highly-concentrated serum exfoliates to help prevent breakouts and accelerates cell turnover to reduce signs of skin ageing.
AGE Bright™ Complex works with the skin's natural microbiome for clearer, brighter skin. Phytoactives from Resurrection Plant, known for its ability to survive extreme dehydration, hydrate and smooth skin. Niacinamide works together with White Shiitake Mushroom to promote brighter, more even skin tone.

Dermalogica products are designed to be most effective when recommended by a Dermalogica Skincare Expert, who is extensively trained in skin analysis. For a free Skin Fitness consultation, please call or text 0425 219 931.